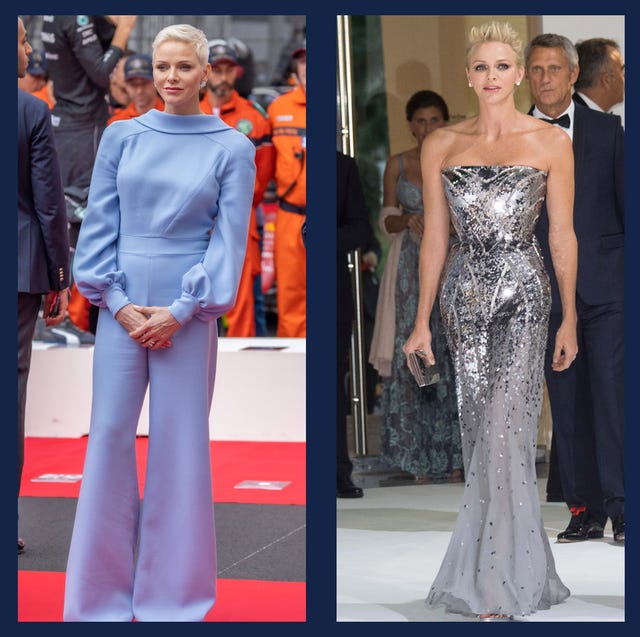 Princess Charlene of Monaco's Best Fashion Looks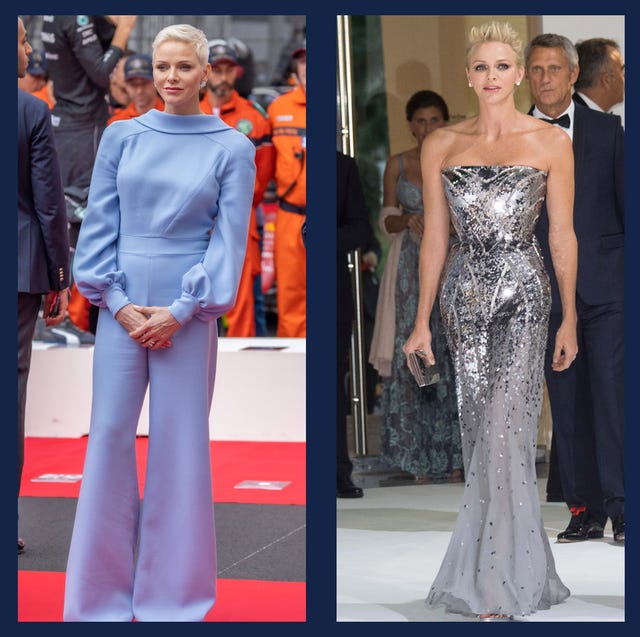 The Monegasque royal family has a long and stylish reputation—thanks in no small part to fashion icon Grace Kelly, who became Princess Grace of Monaco in 1956. But the late star isn't the only princess of Monaco with enviable royal style; her daughter-in-law and former Olympiad, Princess Charlene, has also become known for her dynamic and endlessly chic fashion sense. Here, we take a look back at some of Charlene's greatest style moments since joining the royal family.
Advertisement – Continue Reading Below
For the Grand Prix qualifier, Charlene wore a cobalt blue tunic dress with graphic black and white blocks over a pair of white slacks and simple black pumps. She accented the look with a pop of a bold red lip.
For the Sainte Devote Rugby Tournament—an annual, day-long youth sports initiative sponsored by the princess's foundation—Charlene wore a slate blue A-line dress, belted at the waist, with simple black pumps.
At the end of April 2022, Charlene made her first public appearance in more than a year. The Princess, who had been grounded for six months in South Africa with health issues, and later was treated for exhaustion at a Swiss clinic, wore a charcoal suit with wide, split legs to present a trophy at the Monaco E-Prix race.
For her last appearance of 2020, the princess surprised fans with a dramatic undercut to hand out Christmas gifts to kids in Monaco.
Charlene loves a pop of color, as seen here in the fuchsia-lined navy coat she wore to attend the Monaco National day celebrations at the palace.
Here is Charlene at the Monte-Carlo Gala For Planetary Health Charlene shined alongside her husband, Prince Albert.
For the annual distribution of Christmas gifts at the palace, Princess Charlene donned a colorful woven coat in navy, with white, blue, pink, and green accents over a simple black ensemble.
On Monaco National Day, Charlene was radiant in a white and taupe ensemble with a dynamic fedora.
A fan of both colorblocking and pants, the princess wore this pink trousers with an asymmetrical black tunic with hip detailing at the Grand Prix.
Monaco's National Day celebrations are traditionally a hat moment for Princess Charlene who wore a wide-brimmed topped with a geometric patterned jacket and dark skirt.
To commemorate the 100th anniversary of Armistice, Charlene met with the French First Lady Brigitte Macron at a luncheon.
Charlene rocked a borrowed form the boys look to the Princess Grace Awards Gala in New York City in honor of her late mother-in-law Grace Kelly.
Charlene wore a scaled Art Deco style gown to the 70th Monaco Red Cross Ball Gala.
At the Cathedral of Monaco for services honoring Sainte-Devote, the patron saint of Monaco, Charlene wore a chic neutral coat dress with matching boots and gloves.
At the Monaco Red Cross Ball Gala, Charlene shined in a glitzy silver gown.
The princess looked regal in a royal blue velvet coat dress and navy hat for the Monaco National Day celebrations.
Princess Charlene was seasonal in a bright red capelet for the Christmas gifts distribution in 2017.
On the podium at Circuit de Monaco, Charlene wore a long, geometric patterned gown.
Charlene matched the red floral accent of her hat with a red lip for Monaco's National Day.
Everything was coming up roses—and other florals—when Charlene and Albert took their son Prince Jacques to the annual traditional 'Pique Nique Monegasque' celebration in 2016.
Sporty and stylish, Charlene wore a white, pocketed blouse and white trousers with a pink, oversized tuxedo stripe for the F1 Grand Prix.
Charlene brought the cool factor in a navy suit with a lace top and mirrored sunglasses at the 2016 Monte-Carlo Rolex Masters.
To meet Pope Francis at the Apostolic Palace in Vatican City, Charlene took a fashion cue from the man himself and donned an all-white look.
Charlene loves a capelet. Here, she wore a cream colored topped over a black turtleneck, black skinny trousers, and over the knee boots.
For the Princess Grace Awards Gala, Charlene looked glam in a black short-sleeved gown with red sequin embellishment and a red lip.
To celebrate the christening of her twins, Princess Gabriella and Prince Jacques, Charlene channelled her late mother-in-law Grace Kelly with a vintage-style A-line dress and a demure pillbox hat.
Princess Charlene and her husband Prince Albert officially presented their twins to the work in January 2015. For the occasion, Charlene wore a white dress with a matching coat and tall, taupe boots.
A master of the crisp white ensemble, Charlene wore a white suit set with slit-side pants to the trophy ceremony of the the Monte-Carlo ATP Masters Series tennis tournament.
Charlene went festive in 2013 for the Children's Christmas Ceremony at Monaco's palace, donning a long plaid skirt in red and green with a black top and jacket.
Charlene looked regal at the 2013 Princess Grace Awards Gala in New York City wearing a long, blackened emerald gown with a ruffled neck.
Proving neautrals need not be boring, Charlene wore this fawn-colored gown and matching wrap for the wedding of Princess Madeleine of Sweden and Christopher O'Neill at The Royal Palace in Stockholm.
The night before the wedding, the princess attended a special dinner hosted by the Swedish royal family wearing a glittering gold gown and matching vest.
For Monaco's National Day celebrations Charlene wore a ladylike navy coat dress with a matching veiled hat.
To begin her life as a princess, Charlene wore an elegant, white, shoulder-skimming gown with embroidered details and a show-stopping train to her royal wedding to Prince Albert.
This content is created and maintained by a third party, and imported onto this page to help users provide their email addresses. You may be able to find more information about this and similar content at piano.io
Advertisement – Continue Reading Below